Our Mass Save Program
Do you have National Grid or Eversource?
Massachusetts residential customers of Eversource and National Grid may be eligible for 75% off the cost of insulation (with no incentive limit/cap). Customers must live in a 1-4 unit home. Eligibility for some rebates/incentives is based on findings from the Home Energy Assessment. Some restrictions apply and offers are subject to change or cancellation. Financing is subject to approval from a participating lender.
Example Savings:
Project Cost: $3,500
Incentive: $2,625
Customer Payment: $875
Your Next Steps:
1. Call 1-866-527-SAVE (7283) to schedule a no-cost Home Energy Assessment.a. Have your most recent National Grid and Eversource invoices as they will need your account numbers and rates.
2. During your Assessment, you'll receive a complete attic-to-basement evaluation of how you're currently using energy, and a custom home energy report outlining recommended energy efficiency improvements. Plus, energy-saving products like LEDs, advanced power strips, and thermostats will be installed at no cost as needed during the assessment.
3. If an Energy Specialist completed your Assessment, he/she will be able to coordinate insulation and air sealing services with an Independent Installation Contractor (IIC), or you can select Northeast Home & Energy by specifying on your contracts that you would prefer our company to handle your insulation installation. (See example below)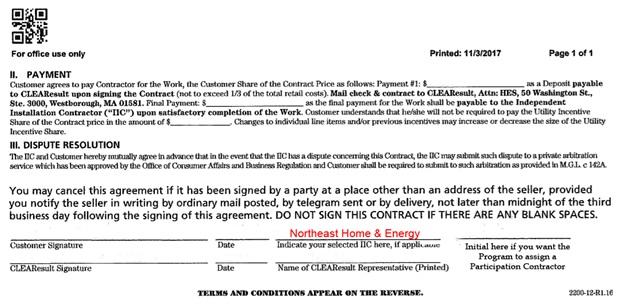 4.After work is completed, the program conducts quality assurance inspections for Home Energy Assessments, air sealing, insulation, HEAT Loans, and rebated heating systems. Quality assurance inspections are performed by one of the following trusted vendors:
Your home energy project may be eligible for a 0% interest loan
The Sponsors of Mass Save® are buying down the interest rates to make energy efficiency more affordable for Massachusetts residents. With our HEAT Loan, you could qualify for a loan of up to $25,000 toward qualified energy efficient home improvements with terms up to 7 years, depending on your Sponsor and the loan provider.
To see if you are eligible you can read Mass Save®'s guide here.
Do you have single pane windows?
Eligible homeowners can take advantage of the 0% HEAT loan to replace single pane windows with new efficient Energy Star replacement windows.
If insulation and/or air sealing measures are recommended by your Mass Save Energy Specialist, then the recommended measures must be completed in order to be eligible to finance the windows. (Insulation can be done before or after the window installation.)
Save on your attic insulation with the Mass Save Program
Once your home energy assessment is finished and you qualify for substantial savings on insulation, then you can select your local, trusted name in attic insulation services, Northeast Home & Energy, as your preferred insulation installer.
After your expert insulation from Northeast Home & Energy, there will be a quality assurance inspection through the Mass Save program to ensure our work is as energy efficient as can be.
Call 1-855-512-0908 for your free home energy assessment today and see how you can be saving energy in your home!